KLONDIKE, CP Army HQ – In the wake of the Help Force's declaration of war against the Silver Empire, both armies released scalding posts in response to each other.
Yesterday, the community was thrown for a loop when the Help Force declared war on the Silver Empire. In HF's initial post, The Silver Rush, they accused SE of troop stealing and disrespecting the Helpers.  These claims were backed by screenshots that HF had of SE engaging in conversations with their troops.  A more in-depth post about HF's initial declaration can be read HERE.
Earlier this morning, the Silver Empire came out with their response to the recent allegations made by the Help Force. In a post entitled Help Force Needs Help, SE labeled all the accusations false and out of context.  They also accused HF of threats, harassment, and mistreatment towards their troops.  Furthermore, they stated they would not be attending battles scheduled by the Helpers:
Silver Empire will not be participating in the War they have called upon us. There is no point in entertaining or stroking their fragile egos. In addition, Comedy will not be punished, nor removed from staff in SE, for your sadistic pleasure.
It didn't take long for the Help Force to reply to the response from the Silver Empire. Within their second post, Ding Ding, Karma's Here, HF not only reiterated their reasons for war, but responded to the counterpoints made by SE.  At this point, the arguments have become an issue of semantics; what the definition of a joke is, what the real context of each picture is, and so on.  The Helpers then showed the messages between a troop of their own and one from the Silvers.  However, all of the messages from the SE troop were deleted.  HF claims that this is to hide their 'true selves'.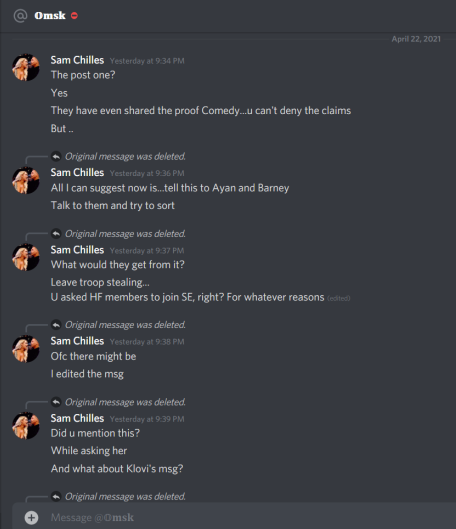 Ultimately, the Help Force stood behind their previous claims.  They reinforced their plans going forward, issuing somewhat of an ultimatum to the Silver Empire:
We can invade anything, anytime, and can kill your army in over seven hundred ways, and that's just with our AUSIA division… We will invade every single one of your servers and raid every single one of your events until you apologize for what you have done. Expect us. Don't bother to make a response, I won't be reading your posts anymore.
It appears that the Silver Empire will put an end to this 'War of Words' with their rivals, as Amber announced to SE troops to not message people outside of their own army.
What do YOU think? Will the Silver Empire show up to battles with the Help Force?  Will the Help Force follow through on their plan to raid all of their enemy's events?  Lets us know your thoughts in the comments below!
Myth
CP Army Headquarters Reporter
DMT
CP Army Headquarters Director in Chief / Suspiciously Suave on-call Editor
More Information